Zones
Within the management layers located in the left panel, you will find those related to the Characteristic Environments of a field, below we will tell you more about them.
It is a layer of polygons which delimit the different environments of a field. It is a very versatile layer, the number of classes and their classification depends on the limitation or quality of the batch to be represented.
The environments, with their classes and surface, are defined according to the objectives that we have for the field, that is, they are not static, but can change.
For example, if you want to delimit the productivity of the field, the productivity map is validated and as many environments as necessary are generated, it is generally divided into three environments: high, medium and low productivity.
These maps serve as a basis to generate prescriptions or to have an attribute delimited.
A modo de ejemplo se muestra aquí abajo, en primer lugar la capa Ambientes para un lote específico detallándose en el margen inferior derecho los tipo de ambiente que representa cada polígono y luego una prescripción de dosis variable de semillas de maíz.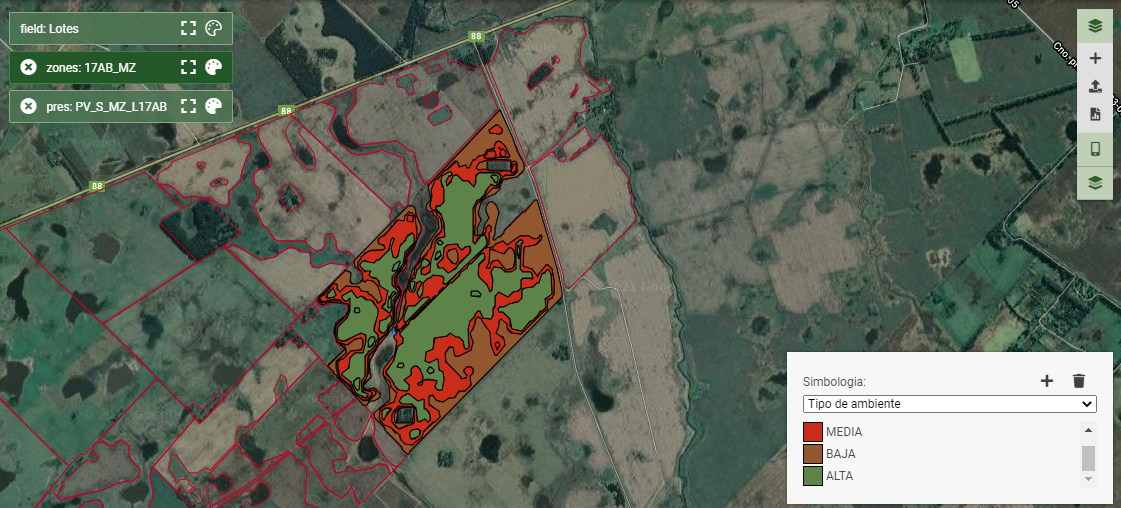 Stores relative information for each of the classes with the following structure:
| | |
| --- | --- |
| Name | Description |
| Type of Zone | Attribute or Quality of the lot to represent, for example: Environments due to limitations. |
| Zone | Environment name, for example: Low, Medium, High or A, B, C. |
| Note | Value that refers to the environment, alphanumeric changes are allowed. |
| Surface [ha] | Polygon surface. |
How do I import an environment layer?
Steps to add a new Map of Environments:
In the right side panel, click on the import option.
Select the file that contains the map to import, it can be the same in geojson or shp format (compressed in .zip).
Indicate if it is a new layer or you want to import it over an existing layer.
Assign layer type "Zone" and a name for the map.
Indicate for each channel the information contained in the file: type of zone, zone and note.
Finally click on import.