Report: Average indices per field and variability
¿Qué es?
Este informe utiliza herramientas de la estadística descriptiva para analizar / comparar varios lotes seleccionados por el usuario en una fecha y un indice determinados (NDVI, NDRE, NDMI, SAVI, EVI, NDWI).
El reporte incluye:
Tabla resumen de los lotes seleccionados, cultivo, híbrido, superficie y fecha de siembra.
Mapa con la imagen seleccionada y el valor promedio del indice en cada lote.
Tabla con resumen de la información estadística: valores mínimo, máximo y medio del índice en cada lote, desvío estandar y coeficiente de variabilidad.
Boxplot que permite identificar los lotes de mayor y menor variabilidad
Gráfico de barras de los lotes ordenados en sentido decreciente respecto a su valor de indice medio. Una linea continua muestra el valor medio del indice para el conjunto de los lotes.
El Coeficiente de Variabilidad es calculado apartir del desvío estándar y el valor medio del lote. Es una medida de dispersión porcentual que permite identificar de manera sencilla los lotes que presentan mayor variabilidad en la fecha seleccionada.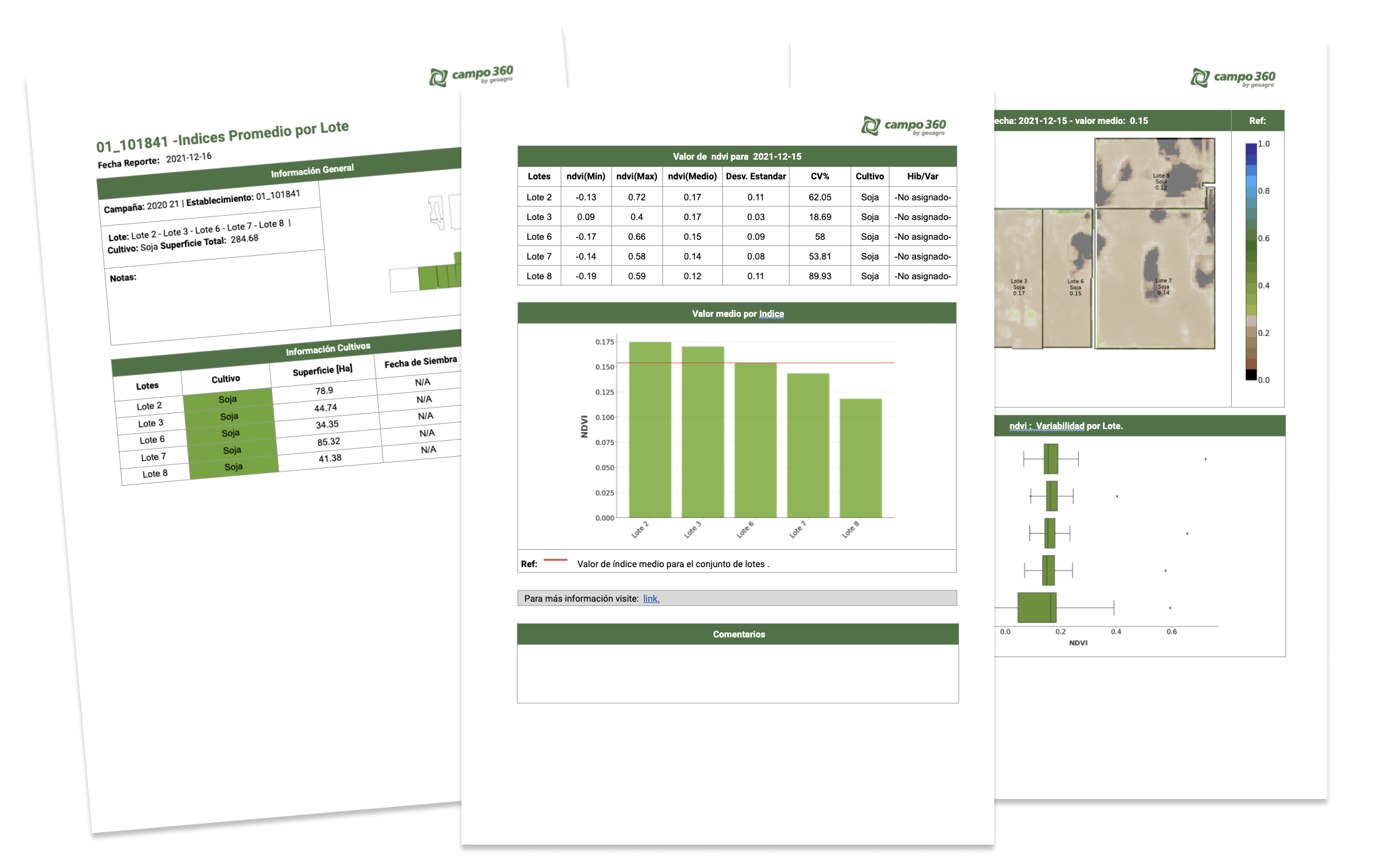 Tabla con valores estadísticos para cada lote
Tabla con información de los lotes seleccionados
Gráfico de barras ordenadas según valor de indice medio
Boxplot para cada lote con simbología del cultivo
Imagen del indice seleccionado para los lotes
 ¿Para qué sirve?
Es útil para analizar la variabilidad dentro de un lote y compararlo con otros.
En la etapa de precosecha es muy aplicado para comparar el índice NDMI (de humedad en planta) de diferentes lotes con fechas de siembra similares y planificar el orden y logística de cosecha. 
 ¿Cómo se interpreta el Boxplot?
Esta gráfica permite visualizar la variabilidad que presentan los lotes para el índice y fecha seleccionados en el análisis.
En líneas generales las cajas más pequeñas representan lotes más homogéneos (con menor variación entre el valor máximo y mínimo del índice en esa fecha) y las cajas más grandes indican lotes más heterogéneos.
How is it generated?
Use the Reports tool and select the Average Indices Report by field and variability.
Select the index to use and the fields with which the report will be generated.
Next, select the date that will be used for the calculation of the indices. Click on "Generate" to finish and then access the "Created" section to see your report.